Sports construction is our life business
Our Expert Services Include:
Design and Consulting
Construction
Drainage
Fencing and Retaining Wall
Surfacing
Resurfacing
Line Marking
Accessories
Lighting
Maintenance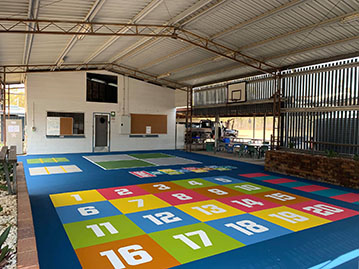 Our team at Premier Sports and Leisure understand that no two courts are the same which is why we love to help our customers design the court of their dreams. To do this we think of all aspects such as, site access, court fencing, sports accessories, surface colours, line work, patterns, and logos to create the design of your dreams, while maintaining playability, and keeping to the supplied budget.
Premier Sports and Leisure, like to think of ourselves as a one-stop-shop. Since we are an all in-house company, we can help with every step of the construction process. Our team is dedicated to go above and beyond with your expectations every step of the way to make sure you are happy with the final product.
Soil Test and Site Specific Engineering
Earthworks, includes cut and fill
Compaction
Concrete Prep
Concrete Pours
Fencing Installation
Surfacing and Line Marking
Accessories Installation
Lighting Installation
Maintenance
At Premier Sports and Leisure, we understand the importance of drainage around courts. Water damage if left unresolved can cause costly damage, and in extreme cases can void product warranties.
Premier Sports and Leisure, can supply and install drainage grates, natural or concrete swale drains, as well as subsoil drainage.
Fencing & Retaining Walls
To protect your sport facilities, we not only enclose them with fencing, but we also create retaining walls, supply and install gates, as well as nylon netting either fixed or retractable.
Our available fencing products include galvanised steel or a powder coated finish. Black nylon netting, with rope borders and weighted bottoms.
Premier Sports and Leisure can also create retaining walls from sandstone blocks, besser blocks, timber and concrete sleepers, all designed to suit the clients requests and budgets. We can also construct and install fencing from provided designs. Or we can manufacture and install our own custom court fence that we developed and designed through 2020.
Hit Up Wall
Hit Up Walls are custom constructed barriers typically used for a wide range of sport related training purposes. These walls can be left as natural concrete besser blocks, or be custom painted for a variety of sports training applications.
Premier Sports and Leisure offer a wide variety of Acrylic Sports Surfaces, you can be assured that we have the perfect surface solution for your multipurpose court to suit your needs and budget.
Hard Court:
Premier's Acrylic Sport Surface is the most common and universal acrylic surface available. The two-coat system is meant for multipurpose use, and can be applied both indoors and outdoors on new or old asphalt and concrete surfaces.
Mat Cushion:
Premier's Acrylic Cushion Sport Surface consists of a custom-made, prefabricated rubber underlay that provides force reduction and reduces injuries and fatigue. This multilayer floating system is installed as a base for Premier's Acrylic Sport Surface to provide a safer and more supportive playing surface for athletes.
Gel Cushion:
Premier's Acrylic Gel Sport Surface is the premium option in cushioned acrylic sport surfacing, equipping athletes of all ages, sizes and abilities with a superior playing experience. As a revolutionary 'wet-pour', self-leveling product which is manufactured with over 60% renewable resources, this sport surface provides athletes with 17% force reduction which reduces joint impact and body fatigue. It also has energy return properties that enhance performance and player stamina.
Premier's Australian made synthetic grass products have UV properties and COOLplus® technology designed to handle the harsh Australian climate. The yarns are made in different styles to provide a synthetic surface for every application. From golf to football to landscapes.
Premier Synthetic Grass Yarns:
KDK:
Non-directional synthetic grass surface for lawn bowls and putting
Fibrillated Tape:
Varying pile height designed for multisport, multipurpose and some landscaping
Texturized Monofilament:
Designed for multisport and multipurpose use
Long Pile:
Designed for AFL, Rugby, Football and Hockey
The yarns are made in different styles to provide a synthetic surface at various pile heights for every application. For golf, lawn bowls, tennis, hockey, football, recreational areas and landscaping.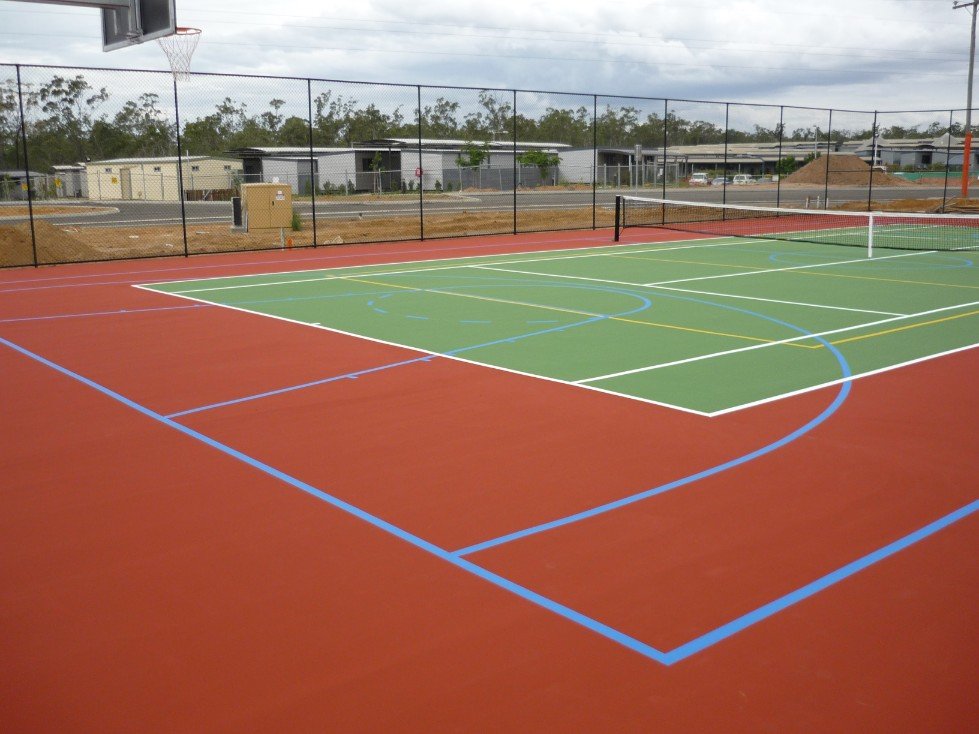 Courts are used almost 24/7 which means that the paintwork will slowly be worn away which is why we offer the option of repainting just the court lines. Whether it be just re-surfacing original lines or painting new lines to create a multipurpose sports court, our team will be more than happy to complete the work above and beyond your expectations.
Premier Sports and Leisure only supply the highest quality sports accessories that are guaranteed to last and are perfect for your required application.
We work with multiple sports accessory industry leaders and have developed fantastic working relationships with these companies. This gives us the unique opportunity to provide our customers with a range of accessories that will suit their needs and budget.
Premier Sports and Leisure understand that sport is a never-ending activity and at times will need lighting after dark. Which is why we offer many different lighting options to suit every need and budget.
We have worked very closely with our lighting supplier, to make sure that we are providing the best products for the best price, for all clients.The lights we supply are proudly designed and manufactured in Australia.
Sport Facilities Maintenance
Our team has a passion for clean and well-presented courts. Your sporting facilities should be maintained on a regular basis to help keep your sport courts looking and performing at their best. Keeping up with regular maintenance will also help improve the longevity and appearance of your court surface.

Sq/m of Product Installed
You name the sport, we have you covered!